It is surprising to me, the number of people who have never made popcorn on the stove. For me growing up, this was the highlight of any given night at our house. There were many of us, so my mom would make a big pot (or two), pour it into a brown grocery sack, sprinkle on the salt, add butter, and one of us would be chosen to shake it up.
No camping trip was ever complete without Jiffy Pop. We even tried our hand at the air popper (this yields the blandest corn ever). Then along came microwave popcorn to change snacking forever. The first shelf-stable microwave popcorn hit shelves in 1984. For that reason, many younger adults have only seen it made this way.
I do not currently have any microwave popcorn in my home, but I cannot deny the convenience of this product. I do believe, however, that there is something special about making it on the stove. As I have said many times, the magic of food and life itself is in the sensory experiences. This is one of those foods that really employs all of the senses.
You already have all the necessary tools. All you need is the ingredients – oil, popcorn, and popcorn salt. Best of all, the difference in price is incredible. I purchase my popcorn from a market that has bulk containers and pay 89 cents per pound. The equivalent at the supermarket is $2.21 per pound and the leading brand microwave popcorn is $2.47 per pound.
Here I have outlined the basic instructions for making popcorn. You simply cannot go wrong with popping in a movie and popping a big bowl of the good stuff. I have taken it a step further by adding my favorite caramel popcorn recipe. This is a definite crowd-pleaser. Nuts are optional.
savour…salty and sweet
Before you begin:
Popcorn salt is a must. I made popcorn for years without it. It changes everything.
Working with hot sugar and boiling syrup can be dicey. Be extra careful when making caramel. It can cause some nasty burns.
While the recipe does not call for it, you could add in a teaspoon of rum extract when you add the vanilla for a special butter rum treat.
MAKING POPCORN
The ingredients:
3 tablespoons vegetable oil or canola oil
½ cup popcorn
Popcorn salt (to taste)
The method:
Have a bowl nearby.
Put oil in a large pot.
Add popcorn
Heat over medium-high heat.
Listen and watch for the first kernel to pop.
After first pop, place lid on the pot.
With oven mitts, begin shaking the entire pot over the heat.
Continue shaking until the popping stops.
Remove from the heat and remove the lid.
Pour into bowl and season as desired.
Caramel Corn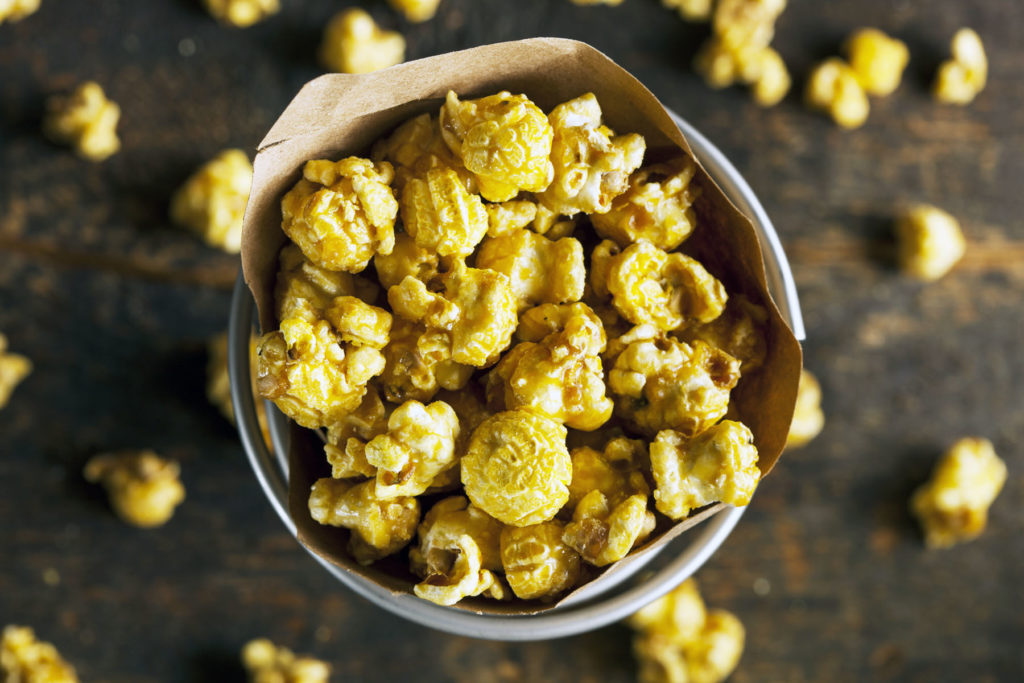 The ingredients:
8 cups popped corn
1 cup peanuts (optional)
¾ cup brown sugar
1 stick (1/2 cup) butter
3 tablespoons light corn syrup
¼ teaspoon baking soda
¼ teaspoon vanilla
The method:
Place popped corn (kernels only, no seeds) in roasting pan.
Sprinkle peanuts over popcorn if desired.
Preheat oven to 300˚F.
In a saucepan place sugar, butter, and corn syrup.
Bring to boil over medium heat, stirring frequently.
Allow mixture to continue to boil without stirring for 5 minutes.
Remove from heat.
Stir in baking soda and vanilla.
Pour mixture over popcorn slowly. Try to get a thin stream going to cover as much surface as possible.
Gently stir popcorn to coat.
Bake in the oven for 15 minutes.
Stir again and bake for an additional 5 minutes.
Turn out popcorn on parchment to cool completely.
Store in an airtight container.