The holiday season has arrived and soon guests will be on your doorstep. Your kitchen will be filled with warm faces, laughter, and conversation. You'll want to be sure you have some hot coffee or tea and a treat or two to make the moments even better.
This Coffee and Cream Bundt Cake is just right for holiday entertaining. It combines the warm flavors of coffee and smooth and creamy cream cheese glaze. It is dense and delicious and serves many. Make it ahead for easy entertaining. It might just become a new holiday tradition.
savour…holiday home
COFFEE AND CREAM BUNDT CAKE
Before you start:
You can make the coffee flavor more intense by using instant espresso powder instead of coffee if you prefer.
Be sure to check the doneness carefully with a toothpick. Check the middle of the cake closer to the inside part of the pan. It cooks the slowest.
You may wish to start with 1/3 of a cup of milk for the glaze and add the remainder slowly to ensure you get the consistency you want. We kept ours just a bit thicker, but you may prefer a thinner glaze.
The ingredients:
For the cake:
¼ cup instant coffee
2 tablespoons water
3 cup all purpose flour
1 teaspoon baking powder
¼ teaspoon salt
1 ¼ cups unsalted butter, softened
2 2/3 cup sugar
6 eggs
1 cup milk
½ cup sour cream
For the Cream Cheese Glaze:
8 oz cream cheese
¼ cup powdered sugar
½ cup milk
½ teaspoon vanilla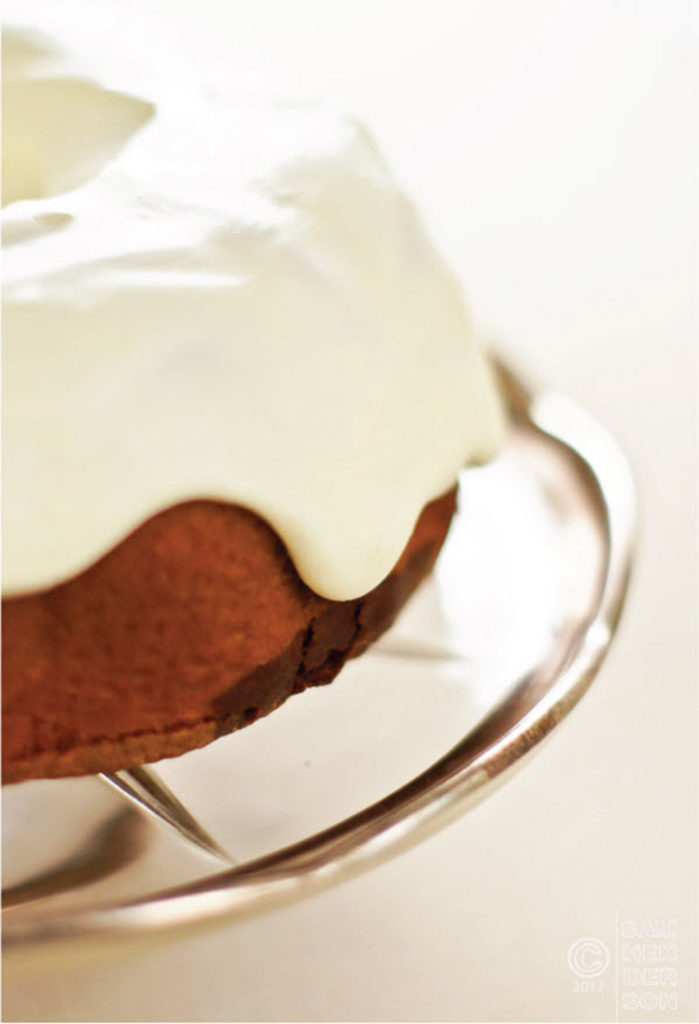 The method:
For the cake:
Preheat oven to 350˚F.
Grease and flour a 12-inch bundt pan.
Place coffee and water in a small bowl and stir to dissolve. Set aside.
Place flour, baking powder, and salt in a medium bowl and whisk together.
Place butter, sugar, and eggs in a mixing bowl and mix on low speed for 30 seconds. Turn up the mixer to high and beat for 3-5 minutes until smooth and creamy.
Add 1 tablespoon of coffee, flour mixture, sour cream, and milk to mixing bowl and beat until incorporated.
Remove 1 ¼ cups of batter and add it to the remaining coffee. Stir until fully incorporated. Set aside.
Pour batter into prepared bundt pan.
Drop coffee batter by the spoonful on top of batter in a bundt. Use a knife to push coffee batter into the regular batter and swirl slightly.
Bake for 50-60 minutes until lightly browned and cake passes clean toothpick test in the center.
Allow to cool on a wire rack for 15 minutes before inverting on rack.  Cool completely before removing the pan.
Top with Cream Cheese Glaze.
For the glaze:
Place cream cheese and sugar in a mixing bowl. Beat on high until smooth and creamy.
Add milk and vanilla. Beat until smooth.