The very best part about these Chunky Chocolate Hazelnut Cookies is that they seem tricky, but they are impossibly easy to make. The result is light and airy cookies with glorious chocolate and hazelnut crunch.
These are perfect for holiday gifting as they can store for up to a couple of weeks in an airtight container (the airtight part is SUPER important in this case). Wrap up a couple of treat bags with a pretty ribbon to seal off the top and be a holiday hero.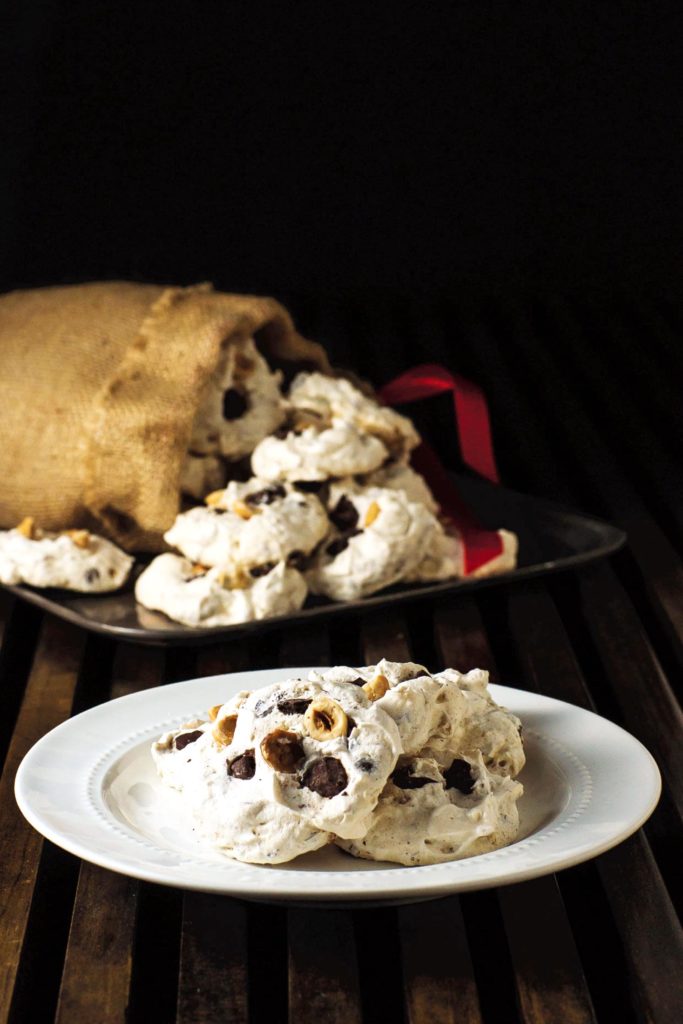 CHUNKY CHOCOLATE HAZELNUT MERINGUES
Before you start:
My favorite method for toasting the hazelnuts is to place them on an unlined, ungreased baking sheet and place them in a preheated 350° oven. Let them roast for about 15 minutes and then remove them to cool completely before handling. When cooled, simply roll them between your palms to remove the skins. If you encounter some stubborn skins, try placing them in a tea towel and rubbing.
I have had the best success with this recipe by first warming the eggs. Submerge the eggs in bowl of warm water and let them sit for 15 minutes. If your eggs came directly from the refrigerator, you may need to empty the bowl after a few minutes and start again.
To get the best looking cookies, place the hazelnuts and chocolate pieces in separate shallow bowls and shake gently back and forth to get the biggest pieces to 'float' to the top. Separate about a fifth of them in a small bowl for later use.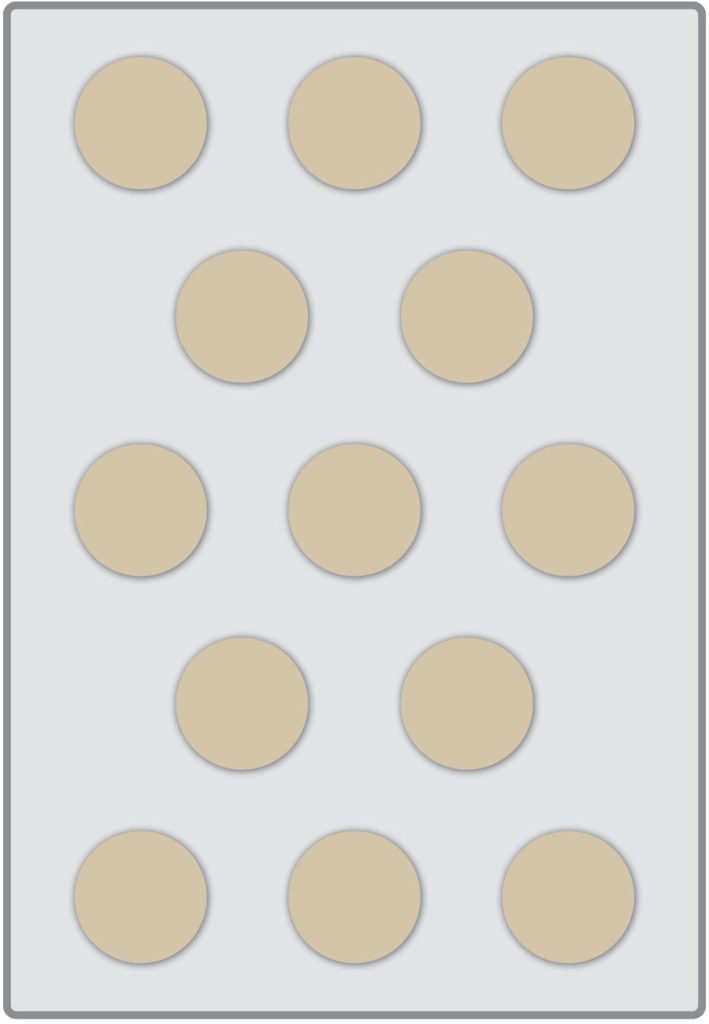 The ingredients:
1 cup bittersweet chocolate, chopped / 185g
1 cup toasted and skinned hazelnuts, roughly chopped / 145g
4 egg whites, warmed
1/4 teaspoon cream of tartar
1/4 teaspoon vanilla extract
pinch salt
3/4 cup sugar / 180g
The method:
Preheat oven to 225°F. Line baking sheets with parchment paper.
Toast hazelnuts and chop. Chop chocolate. Set aside about a fifth of each to top the cookies.
Add warmed egg whites, cream of tartar, salt, and vanilla to a large mixing bowl. Beat on medium-high to high speed until soft peaks form (about 1-2 minutes). Continue beating on medium-high to high speed while adding sugar 1 tablespoon at a time until stiff, glossy peaks form (about another 1-1.5 minutes).
Add chocolate and hazelnuts and carefully fold them into the whipped egg whites.
Using two tablespoons, scoop out mounds of batter onto parchment-lined baking sheets using the baker's dozen layout.
Use the reserved chocolate and hazelnuts to top the cookies poking them in slightly to secure them.
Bake for 1 – 1 1/2 hours or until dry and very lightly browned. Allow cookies to cool completely on the baking sheets before peeling them away from the parchment paper.