Day 11 of the New Year and we are all still trying our best to eat "healthy". There are many healthy snacks and cereals out there, but many are either over-processed foods or, if not, they come with a ridiculous price tag. Today we are making our version of granola that, although does have some sugar, is very natural and loaded with goodness.
Granola originated sometime in the late 1800s to early 1900s. The original version was not much more than grains. It wasn't until the 1960s that the world was introduced to the granola that we know today. Today's granola is oat-based and filled with nuts, berries, and other grains. It is baked and typically held together with sugar, honey, or some other sweetener.
Granola is a great choice for breakfast as it is a good source of energy. The fiber helps to keep hunger at bay while the carbs keep you going for hours. Use it to top your yogurt or have a small bowl of it with milk. Naturally, it is a good choice for snacking when energy is the focus (think hikers). Our version is crunchy and nutty and even more flavorful than usual as we have added pomegranate juice as part of the binder. The result is fruity and fragrant. Snack on…
savour… energy stores
POMEGRANATE GRANOLA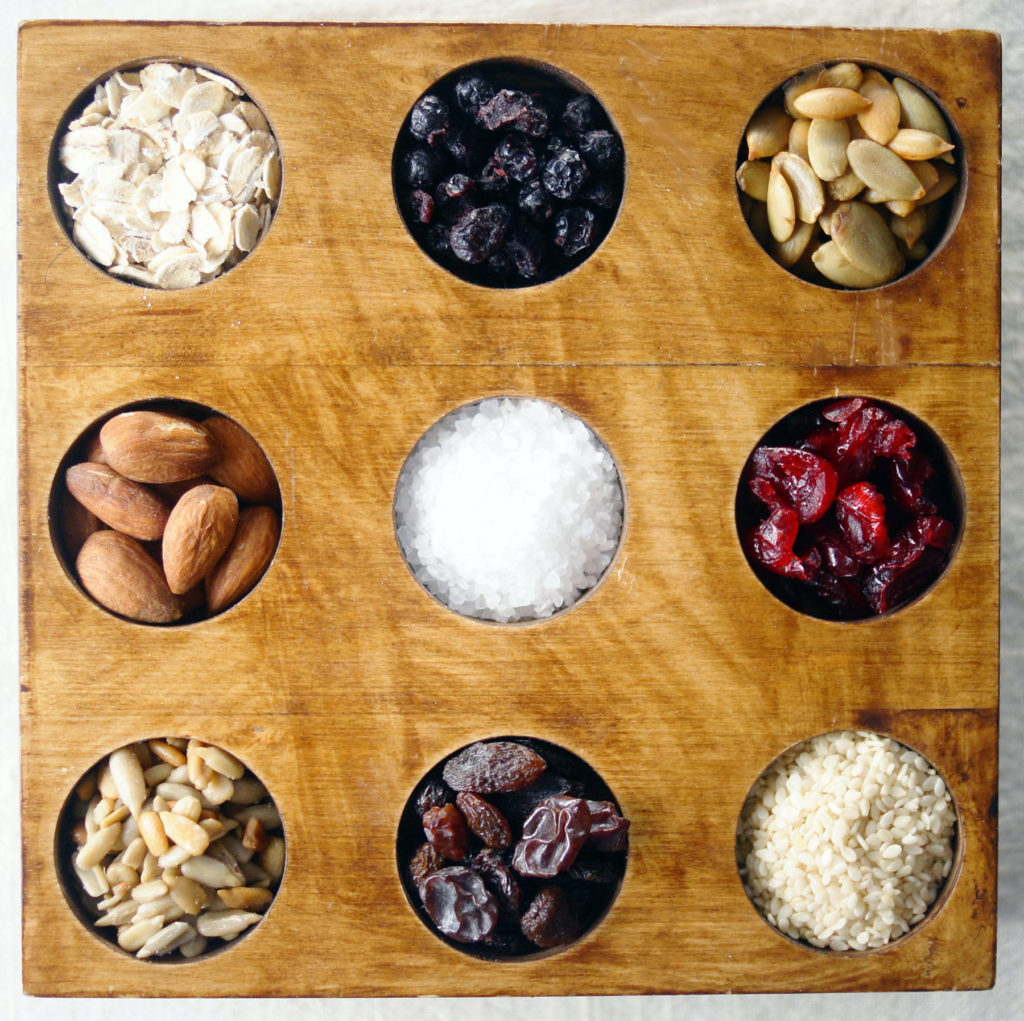 Before you start:
Be sure to use rolled oats and not quick oats. The texture is important here.
Purchase your seed pre-roasted or toast them yourself slightly before adding them to the mixture.
Granola freezes well. If you make more than you can use in a week, put some in the freezer.
The ingredients:
2 cups rolled oats
1/3 cup pumpkin seed kernels /40g
¼ cup sunflower seed kernels / 40g
¼ cup sesame seeds / 40g
¾ almonds, coarsely chopped / 110g
¾ cup dried cranberries / 110g
¼ cup dried blueberries / 50g
½ cup raisins / 85g
1 ½ teaspoons cinnamon
¼ teaspoon salt
1/3 cup honey
2/3 cup light brown sugar, packed / 165g
½ cup pomegranate juice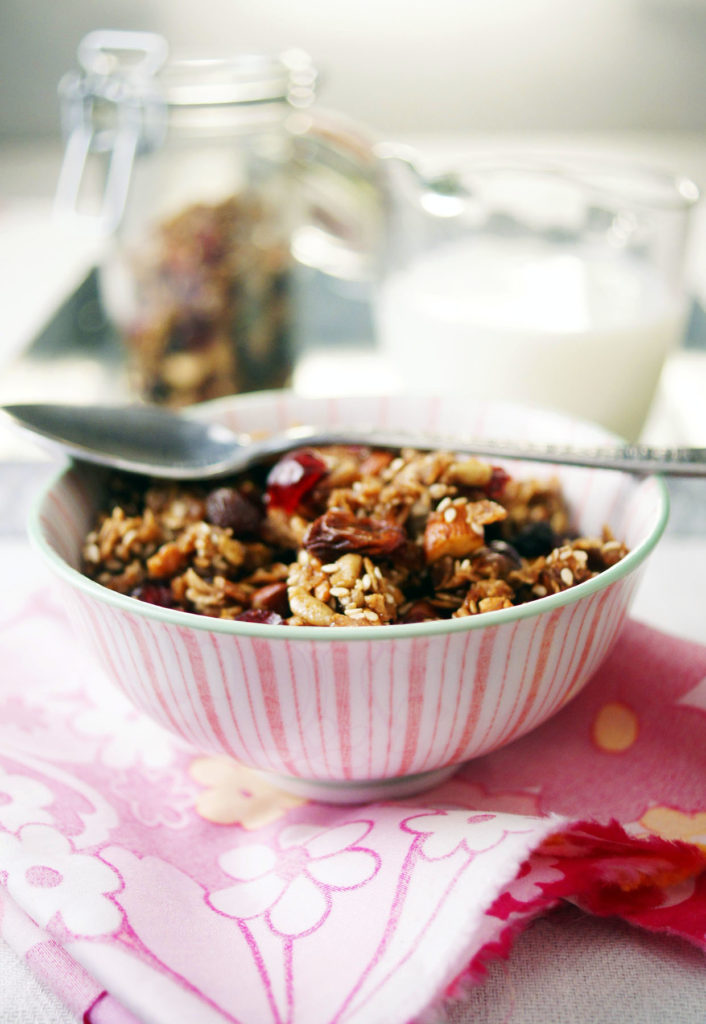 The method:
Spray a half sheet baking pan with non-stick cooking spray and set aside.
Preheat oven to 325˚F.
Combine oats, seeds, almonds, cinnamon, and salt in a medium bowl.
In a small saucepan, heat the honey, brown sugar, and pomegranate juice over medium heat until sugar is completely dissolved.
Pour liquid over dry ingredients in a bowl and mix thoroughly.
Place the coated mixture on the baking sheet and smooth it into an even layer.
Bake at 325 degrees for 20 minutes.
Remove from the oven and stir in the dried fruits. Spread into an even layer again.
Bake until lightly browned (12-15 min).
Remove and allow to cool on a wire rack before breaking into pieces.
Store in an airtight container.